Cover image: Divine Connecting, 4'x3′, acrylic on canvas. 2022
---
Shonto Begay: A World of Light
Modern West Fine Art, Salt Lake City, UT
January 20 – March 4, 2023
https://www.modernwestfineart.com/artists/
---
Free Indian Market Show, August 20-21, 2022, Federal Park, Santa Fe.
---
July 2022: Shonto's 19th annual Flagstaff exhibit at West of the Moon Gallery
Meet Shonto at the July 1 First Friday Artwalk, downtown, 14 N. San Francisco St.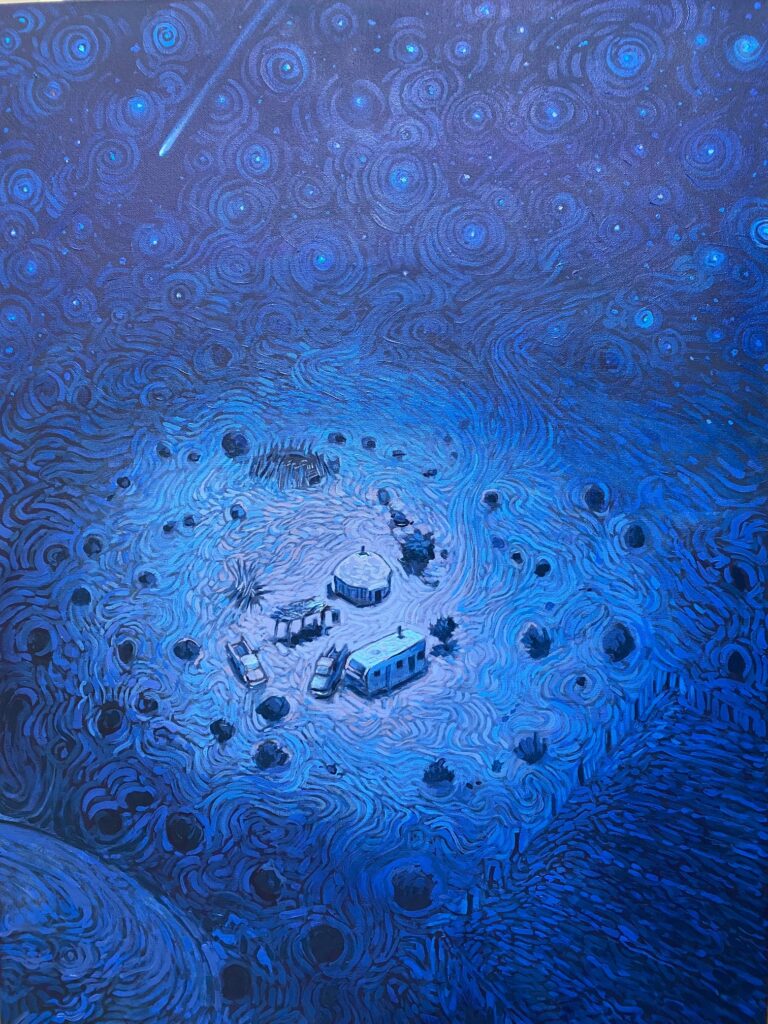 ---
Shonto will be at Buffalo Commons Storytelling & Music Festival Weekend
June 10-12, 2022
---
---
Painting a Navajo Narrative
Interview with Shonto Begay written by Matthew Brady
https://americanlifestylemag.com/life-culture/editorial/painting-a-navajo-narrative/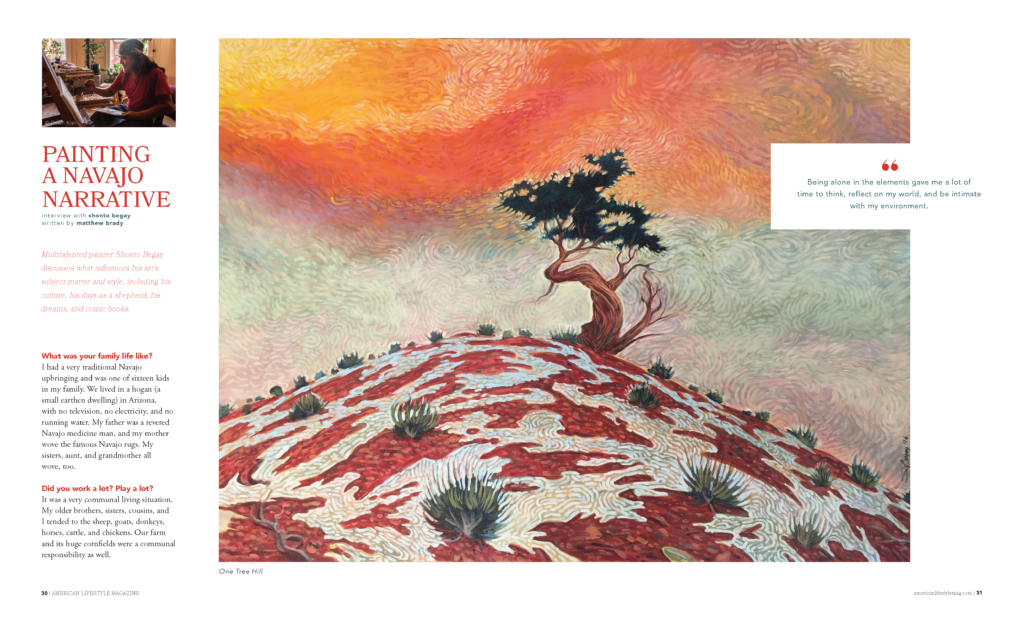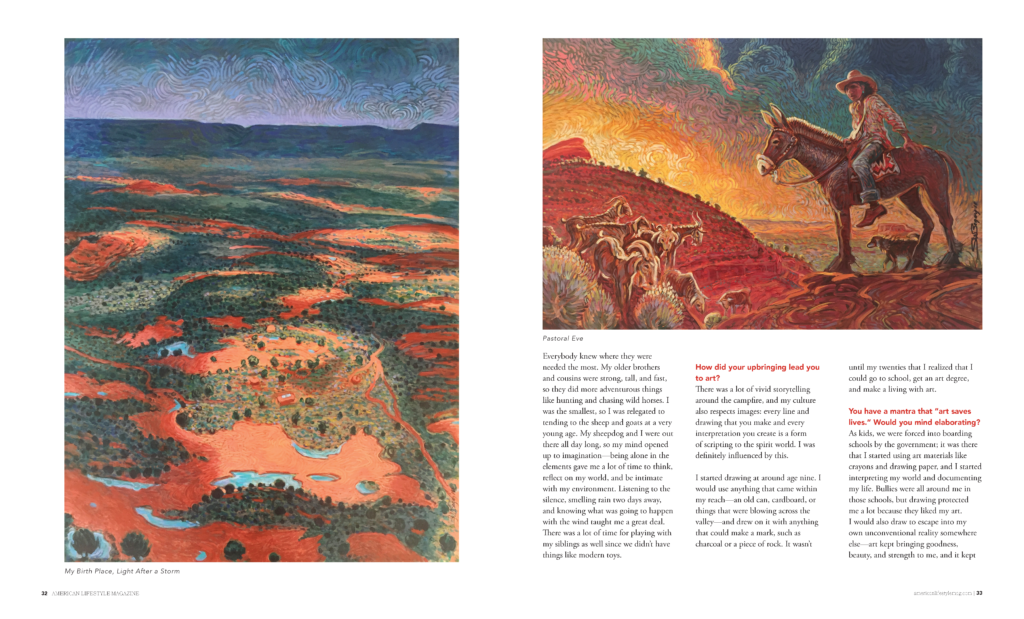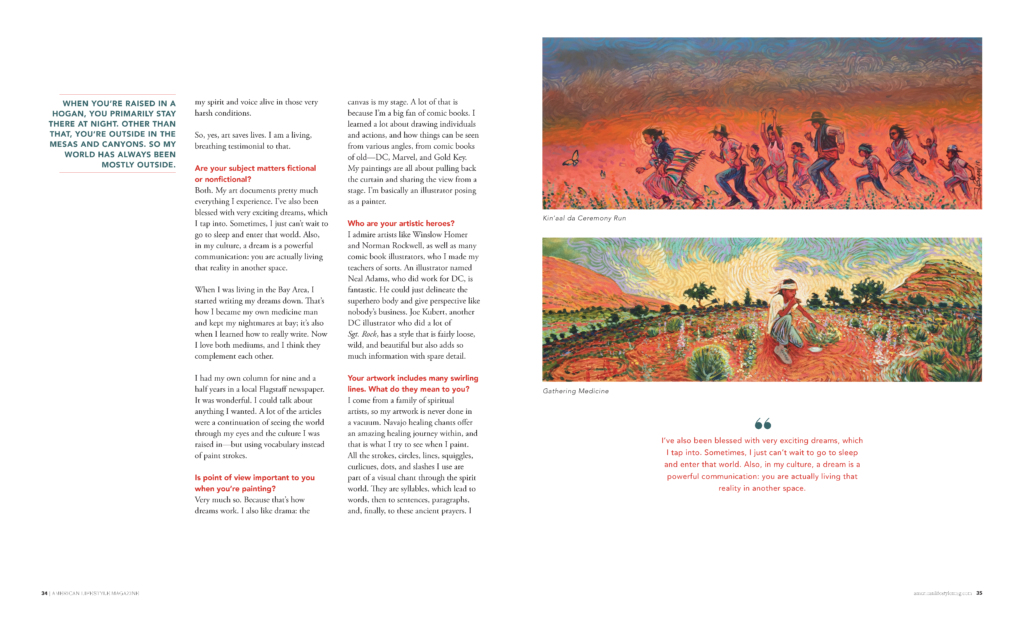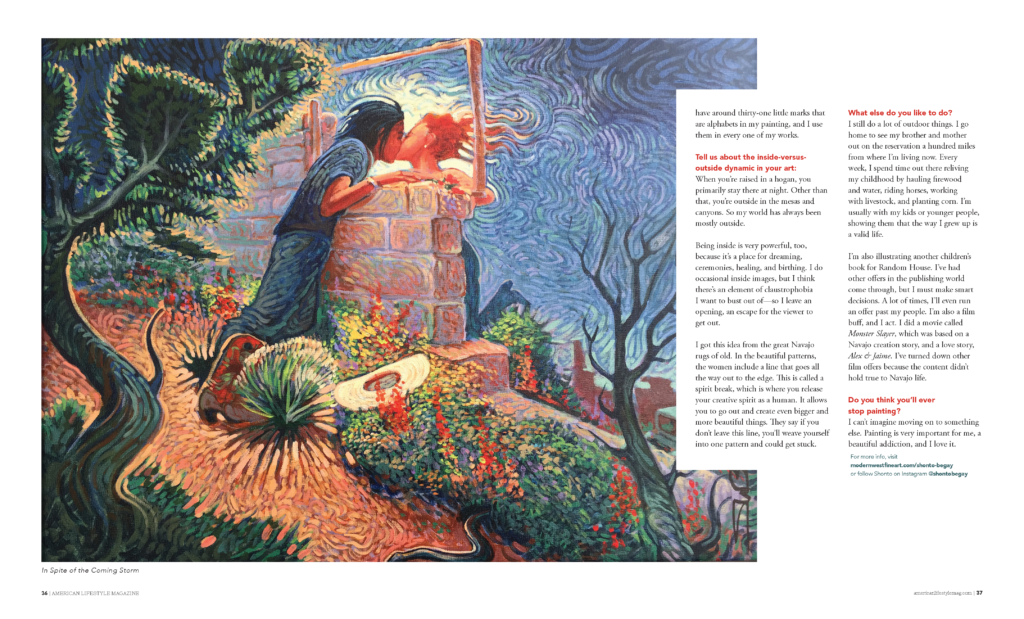 ---
New Children's book from Random House:
The Water Lady
Pre-order now (available March 30, 2021)
by Alice B. McGinty (Author), Shonto Begay (Illustrator)
How Darlene Arviso Helps a Thirsty Navajo Nation.
https://www.amazon.com/Water-Lady-Darlene-Arviso-Thirsty/
---
Solo exhibit:
Shonto Begay: New Works
Mark Sublette Medicine Man Gallery
Tucson, AZ
https://www.medicinemangallery.com/events
Opens: April 24 – May 8, 2021. An exhibit of new works to coincide with The Shonto Show at the Wheelwright Museum of the American Indian in Santa Fe. Mark Sublette is a trusted expert on Shonto's art career, having represented his artwork for more than 20 years.
---
Solo exhibit:
Shonto: Eyes of the World
The Wheelwright Museum of the American Indian
Santa Fe, NM
Exhibition Dates
04/10/2021-10/03/2021
https://wheelwright.org/exhibitions/shonto/
Shonto Begay: Eyes of the World features the work of Navajo Neo-Impressionist artist Shonto Begay. Autobiographical in nature, his paintings visually narrate his connection to the Navajo landscape, personal histories, and cosmology. Shonto's voice resonates throughout the exhibition, poetically complimenting individual artworks with in-depth storytelling and reflections on life, furthering the viewer's understanding of art as an activity that creates objects of healing, beauty, and peace in a troubled world.
"My relationship with the Wheelwright Museum goes way back and deep. My father's Diné prayer blessed this museum. The Wheelwright is guardian of our Diné Jish – the creative forces of scared visionaries," Shonto says. "I am fortunate for my artwork to be in the Wheelwright Museum collection. My vision graces its walls with great validation."
The striking beauty of the Dine' land and culture meet the harsh realities of reservation life in Shonto: Eyes of the World, a solo exhibition featuring original paintings from the 1980s until present day. Autobiographical works tell the stunning story of boarding school life, bronco riding, heartfelt hippies, inspiring ancestors and the beautiful landscapes that fuel inspiration and the Navajo way of life, Hozho – walking in beauty. More than half the exhibit is from private collectors who purchased paintings in the past 30 years – most have never been shared with the public.
A separate gallery features the Wheelwright's collection of Shonto ink (Bic pen) on paper drawings from the early 1990s depicting the Navajo legend creation story of the Hero Twins.