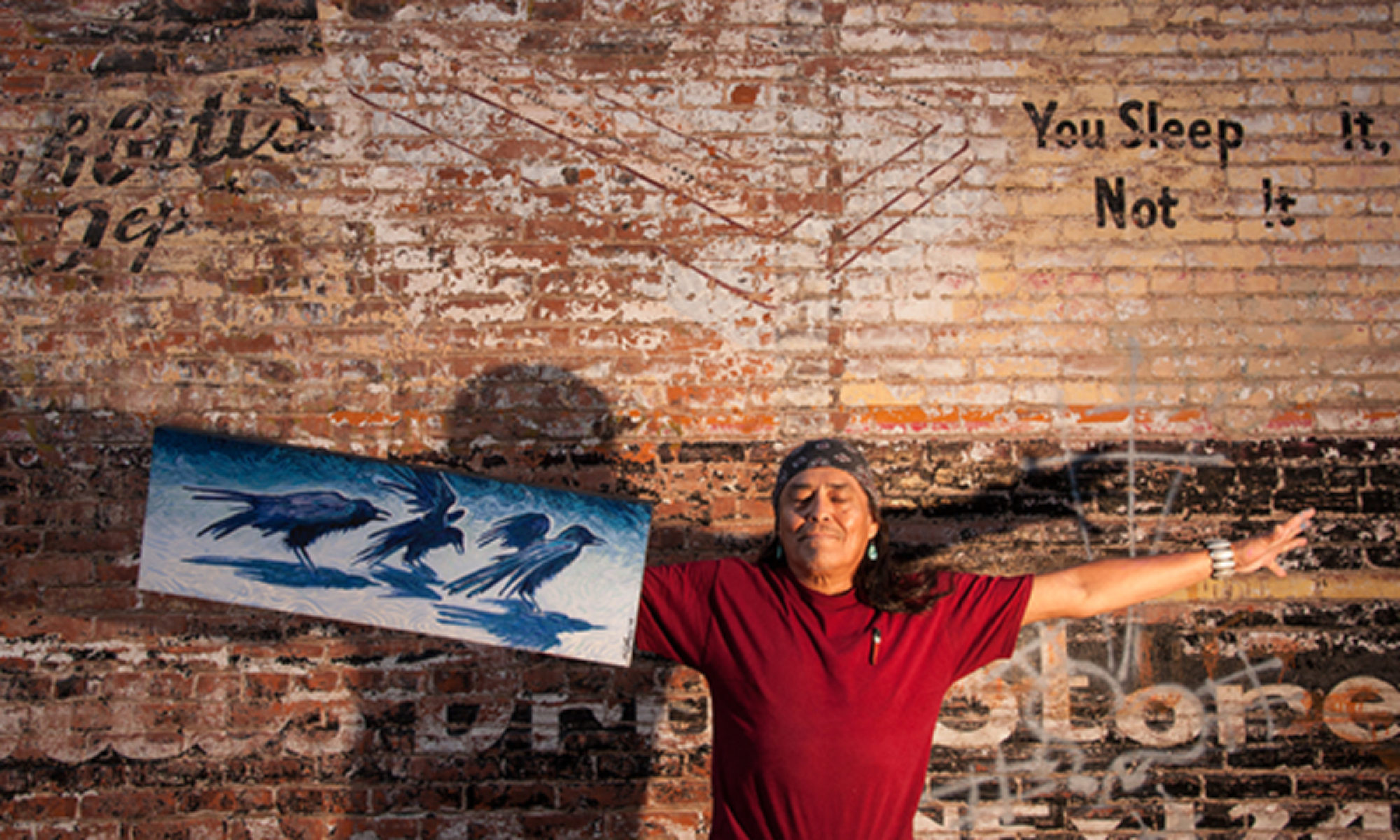 About Shonto
Diné (Navajo) Painter. Illustrator. Author. Educator.
"In my heart I hold a boundless gratitude to having been born and brought up on the vast beauty of the upper Diné (Navajo land). I see the world and my life experiences through this lens. My paintings are expressions of the purity of the Shonto Plateau I still call home. Beauty in the truth, beauty in the sacred, and the mysteries. I paint to share colors as an expression of having been," says Shonto Begay, Diné (Navajo) painter, illustrator and author.
The art of Shonto Begay captures the striking beauties of a Navajo upbringing and the realities of modern reservation life. A traditional life of sustainability and prayer helped Shonto endure the brutality of the U.S. government boarding school he was forced to attend as a child. He paints in a series of small brush strokes that repeat like the words of a traditional Navajo blessing prayer. His images harken heartfelt childhood memories and resonate the constant struggle for balance and harmony with humankind and Earth.
Born in a Hogan, Shonto grew up herding sheep in sheep in Kletha Valley in Shonto, Arizona. One of 16 children, his mother is a traditional Navajo rug weaver from the Bitter Water Clan, and his father was a medicine man born to the Salt Clan.
Shonto began professionally writing, illustrating, and painting in 1983. He is represented in numerous museums and fine-art galleries. A true storyteller, he has written and illustrated several books for Scholastic and Random House publishers. Shonto speaks to audiences of all ages about inspiration and the importance of education and embracing cultural backgrounds.
Shonto artwork was featured in solo exhibits at the Wheelwright Museum of the American Indian in Santa Fe, the Museum of Northern Arizona, Arizona State Museum, Utah Museum of Fine Arts, the American Indian Contemporary Arts Museum, the National Museum of Wildlife Art, the Booth Western Art Museum, and the Phoenix Art Museum. He made his film debut as the character "Cowboy" in the Native-produced Monster Slayer Project—a movie inspired by the Navajo origin story.
Shonto attended Bureau of Indian Affairs boarding schools on the Navajo reservation and high school in Kayenta, Arizona. He received an Associates of Fine Art degree at the Institute of American Indian Arts in Santa Fe, and a Bachelor of Fine Arts degree from California College of Arts and Crafts. He worked in the 1980s as a National Park Service ranger at Grand Teton National Park in Wyoming and Navajo National Monument in Arizona. In 2017, became an Artist in Residence at Northern Arizona University.
Exhibitions
2022 — "New Works" Solo Show, Mark Sublette Medicine Man Gallery, Tucson, AZ
2021 — "New Works" Solo Show, Mark Sublette Medicine Man Gallery, Tucson, AZ
2019 — "New Works" Group Show, Mark Sublette Medicine Man Gallery, Tucson, AZ
2019 — "Along the Distant Mesa: An Homage to Maynard Dixon" Mark Sublette Medicine Man Gallery, Tucson, AZ
2017 — "25th Anniversary Celebration" Mark Sublette Medicine Man Gallery, Tucson, AZ
2015 — "7C's of Arizona: Copper, Cattle, Cotton, Citrus, Climate, Cactus, Canyons" Phoenix Airport Museum, AZ
2013 – 2014 — Arizona State Museum, Tucson, AZ
2013 — Solo Show, Mark Sublette Medicine Man Gallery, Santa Fe, NM
2013 — "Bierstadt to Warhol: American Indians in the West" The Utah Museum of Fine Arts, Salt Lake City, UT
2011 — "Animal Magnetism" John Michael Kohler Arts Center, Sheboygan, WI
2011 — Plein Air on the Rim, Kolb Studio, Grand Canyon, AZ
2011 — Solo Show, Mark Sublette Medicine Man Gallery, Santa Fe, NM
2010 — Solo Show, Mark Sublette Medicine Man Gallery, Santa Fe, NM
2009 — Farmington, NM
2009 — 1st Annual Rock the Canyon Community Celebration Headliner, Shonto, AZ
2009 — Geronimo Remembered: A Retrospective 100 Years After His Death, Mark Sublette Medicine Man Gallery, Tucson, AZ
2007 — Arizona: A Millennium of Arizona Art, Mark Sublette Medicine Man Gallery, Tucson, AZ
2006 – Present — Mark Sublette Medicine Man Gallery, Indian Market, Santa Fe, NM
2002 — IAIA Museum Walk the Line, Santa Fe Indian Market, NM